Capital as Power-ism and Abstract Labor
Hello, I'm not sure where to post this, but I had a thought I wanted to share somewhere and I wanted to see if there are holes anyone can poke. 
As I'm sure many of you are aware, Unlearning Economics recently posted a video criticizing Marxist economics. I've watched the whole thing and I find the video to be just egregious in its misunderstandings and the quality of its arguments. I think that essentially all of his arguments are nonsensical, so I've been brainstorming a response video. But in the course of my brainstorming, I've found myself going deep into the rabbit hole of the "Capital as Power" school, which is where Unlearning Economics seems broadly to be drawing his critique of Marxist economics from. I think my video will end up being both a response to Unlearning Economics and to the Capital as Power school more generally. 
I've read much of Capital as Power by Birchler and Nitzan and intend to finish it, and I've been struck by the degree to which they emphasize that abstract labor is supposedly an incoherent concept. It seems to undergird their entire critique of Marxism - that one cannot conceive of human labor in the abstract due to differences in productivity and skill. This supposedly renders the labor theory of value and all of Marxist economics illegitimate. Labor values, in principle, aren't measurable since labor cannot be homogenized, the argument seems to go. 
I've had the idea that perhaps this is due the material basis of Capital of Power theory. In the USSR, pay differentials between manual workers and educated skilled workers were far smaller than in capitalist countries, and this fostered strong resentment among the latter and strongly contributed to the downfall of socialism in the 20th century. Furthermore, the notion of allocating goods according to labor time in a socialist system necessarily mostly wipes out pay differential and brings about an equality of labor. As Cockshott and Cottrell argue in Toward a New Socialism, pay differentials on the basis of productivity and effort could be introduced in a socialist system, but there would be no skilled worker premium, because there is simply no justification. 
Perhaps - and I'm completely open to the idea I'm wrong on this, but perhaps - Capital as Power-ism is the product of a stratum of educated high-income leftists who balk at how the labor theory of value necessarily leads to the notion of the equality of labor. As such, they desire an economics that challenges gross capitalist excesses, but that does not homogenize labor and ends up treating the work of lowly unskilled workers as being equal to that of educated skilled workers. The Capital as Power school provides that and thus offers an attractive alternative to Marxism, especially in light of the demise of Keynesianism.
As Cockshott and Cottrell wrote in Toward a New Socialism, 
"Enemies of political democracy like South African whites deplore the way the doctrine of one man one vote ignores natural human inequality. Is a civilised white man really to be compared with a n**** fresh out of the bush? Enemies of economic democracy deplore the Marxist doctrine of the labour theory of value for the way it falsely homogenises people. As a visiting Chinese student put it to to one of us: could he with his years of education count for no more than an ignorant drunken worker?
True, people are different. The work of a college professor is different from that of a labourer. The culture of a Boer is different from that of a Zulu. A man is different from a woman. To those at the top of the heap, difference justifies differentials. The view from the bottom is different," (pg. 38).
As for the political conclusions that CaSP proponents come to, I think it's basically just social democracy. 
Again, this is just an idea I came up with four hours ago so I'm entirely open to being wrong. 
This topic was modified 5 months ago 2 times by
Brandon
Topic starter
Posted : 14/11/2022 5:08 am
Labor values, in principle, aren't measurable since labor cannot be homogenized, the argument seems to go.
Labour power is already homogenized in exchange-value. That is a point von Mises makes in capitalism's favor. Different kinds of labour also becomes quantified and thus homogenized by the fact that training consists of concrete classes, of concrete teaching shifts. There are of course natural constraints on which people can perform certain jobs, but so what?
Capital as Power-ism is the product of a stratum of educated high-income leftists who balk at how the labor theory of value necessarily leads to the notion of the equality of labor
You are not alone in this observation. This is a recurring feature of the labour aristocracy that begets liberalism.
It is true that trained labour is more valuable than untrained labour. But this by no means implies that trained labour produces more value or that it should be remunerated differently. In capitalism there is "room" for pay differentials, that room being the rate of exploitation. Because the average worker only receives 20 or so hours per 40 hour work week there is room for capital to pay some workers more than 20 hours. This wiggle room goes away in socialism. After all why should someone with a comfortable job in academia be paid more than a sewage worker?
I'm curious to see if Hakim or @wpc will respond to Unlearning Economics since both of them were called out in the video.
Posted : 14/11/2022 12:01 pm
Posted : 15/11/2022 12:22 am
@casperadmin Looking at the Bichler-Nitzan text it starts out by being simply wrong. Labour time can be measured. Indeed it is often measured very carefully lest wagies get any ideas about slacking off. Use-values ("utils") on the other hand are notoriously tricky to quantify. With the notion that liberals and Marx separate political economy into politics and economics, the authors miss that Marx describes an is whereas liberals treat this as an ought.
To recognize power meant to abandon the labor theory of value.
This assertion is not justified.
And since each of these phenomena belongs to a completely separate realm of society, no one has ever thought of relating them in first place.
The authors seem unaware that both Marx and Marxists were/are notoriously concerned with profit rate differentials. Excessive differentials will cause capital to move around, and sometimes this happens via war. War destroys constant capital, especially fixed capital, and so is a useful "cleansing maneuver" for capital.
An analysis of the USSR and the PRC is conspicuously missing from the paper.
In summary I find the paper's analysis very anemic and I'm certain there are much better ones on the topic of power. Interestingly I had some similar ideas before I started reading Capital. The view that power is what is central is also not a new one. Existentialcomics provides one amusing example with Simone Weil: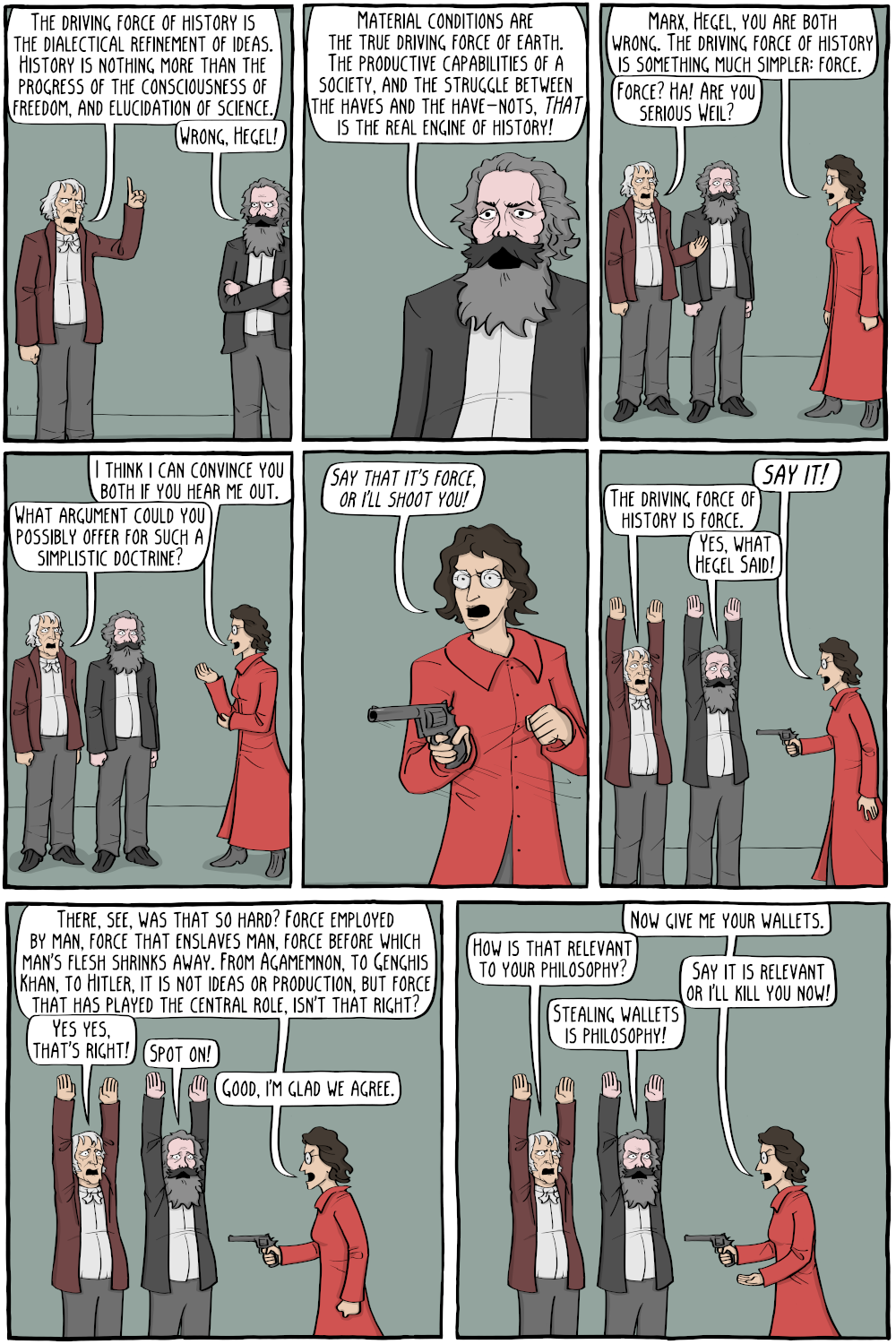 (also I'll try attaching it just to see what the forum does with image attachments)
Posted : 15/11/2022 9:05 pm
Definitely do a response video!
Unlearning Econ is a smart guy but as someone with a graduate degree in econ he's definitely very far into the common misunderstandings and neoclassical-fueled/tinged ideas. I doubt he's got a handler at Langley though so I would keep the response respectful. I made my jump into marxism after having started as a great fan of UE and people like Steve Keen. What brought me over was a bunch of (shocker) dialogs (::cough:: or dialectics) about things.
The fact that he didn't go into great detail about Marxism is something working in your favor since anyone wanting to sink their teeth into it can find your video or cockshott's many videos.
Please post a link to it here when you finish it!
Posted : 15/11/2022 10:16 pm
Use-values ("utils") on the other hand are notoriously tricky to quantify
This is something I think Steve Keen's "Debunking Economics" is great for. He's not a marxist so normies aren't scared and dismissive but he's a great read (he writes like a prole rather than a bougie academic) and goes thru the math of how bad the entire utility nonsense in neoclassical econ is.
the real killer for neoclassical econ for me wasn't the first ever true study of revealed preferences (already a shot in the dark to save neoclassical econ from pseudoscience) showing the model to be a better fit for random noise than for human behavior (1), or him pointing out the infinitesimal/zero math error made for supply curves (2), but his walkthru of debunking neoclassical demand. it's impossible to produce a market demand curve from individuals with different preferences using neoclassical econ (3).
1. Sippel, R. (1997). An Experiment on the Pure Theory of Consumer's Behavior. The Economic Journal, 107(444), 1431-1444 jstor.org/stable/2957744
2. Debunking Economics, pages 87-93 (great title for the subsection: "Calculus 01 for economists: infinitesimals ain't zero")
3. the proof involves needing parallel but distinct engel curves to produce a demand curve which follows the law of demand using rational utility maximizing individuals who themselves obey the law of demand. it's so subtle that seemingly Keen is the only one to have realized it's impossible since all Engel curves must start at 0. they also have the issue of needing perfectly straight Engel curves which means there is only 1 commodity
Posted : 15/11/2022 10:35 pm
@joe Me or Thomas here? I don't really make videos, unfortunately though sometimes I appear on streams with Derrick Varn.
Posted : 15/11/2022 10:35 pm
@joe A video response or two might be warranted. UE does not address me however. And I have some other ideas besides.
Another problem with neoclassical econ is the well-known supply-demand curves. While the demand curve makes some sense, namely that increasing the price of something typically causes people to buy less of it, on the supply side the model is the opposite of reality. The marginalists posit that price increases with quantity, not decreases as one would expect from economics of scale. This is a point Cockshott has made, but it probably needs repeating.
Posted : 16/11/2022 12:31 am
Posted : 16/11/2022 1:26 am
I'll be sure to link my video when it's finished. I'll probably have it done some time in early January, I've also found that I'm in need of a hardware upgrade. 
Having read more Birchler & Nitzan, the notion that capital is just the manifestation of raw power seems so obviously preposterous and circular (which is ironic, since Capital as Power people charge that both Marxism and neoclassical economics are based on circular assumptions). How, exactly, are capitalists able to exert their will on the rest of the human race in this framework? Are they super-humans of some sort? Birchler & Nitzan don't really say. 
Yet this is supposed to be more sophisticated and more insightful than the dogmatic "grand narrative" of Marxism. Birchler & Nitzan attack "grand narratives" and Unlearning Econ borrows from this and said on Reddit that his channel is about dispensing with "grand narratives" about economics - neoclassical and Marxist economics are both just dogmatic narratives that advance stifling, totalizing interests. Neoclassical economics advances the totalizing interests of the capitalist class and should be rejected. Marxist economics advances the totalizing interests of the working class and should also be rejected (though this latter part is not articulated as directly, probably because it sounds, because it is, reactionary when put it in plain terms). It's a postmodernist mode of analysis they're deploying. 
Their critique of abstract labor bears a lot of resemblance to Mises' attack on the LTV, though of course they don't cite Mises. Mises said that human labor cannot be homogenized into units of abstract labor time, and snobbishly derided that "simple" types of labor could never be compared to "higher" types of labor (the latter of course including the work he did as a Vienna intellectual). Capital as Power-ists are really doing the same thing when they attack the LTV, but aren't as blunt about it. No amount of empirical research validating the LTV's predictions will ever convince them because in the end, they fall back on insisting that labor values are unobservable since abstract labor is an incoherent concept due to the supposed non-fungibility of labor. Any measurements of labor values Marxists provide are thus invalid. 
This post was modified 4 months ago by
Brandon
Topic starter
Posted : 20/11/2022 6:29 pm
@tbrandon Spot on. I didn't know UE was that far down the postmodernist bog. I'd push the reactionary angle if you make a video about it. It's a recurring pattern with liberal ideology.
Posted : 20/11/2022 8:06 pm