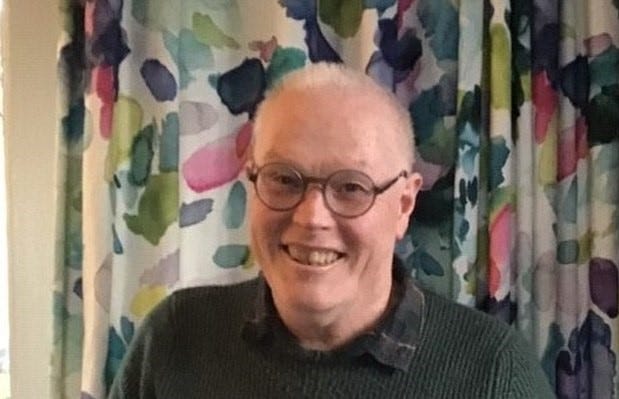 This post originally appeared on my substack.
Science is a process which is decentering of the subject, moving beyond it in order to come to terms with objects as they relate to each other. It is only by whack-a-moling the subject as it appears in objects do we make scientific progress. Science, just as ideological production, must be accomplished by particular individuals. And when a science is in its infancy, and the product of only a small number of individuals, these personal subjectivity, particularities of time and space, can be greatly amplified.  
Nowhere is this more obvious than in the science of cybernetic economic planning, and the methodologically adjacent classical econophysics. Paul Cockshott is one of the most notable contributors to these fields, and his book "Towards a New Socialism" is perhaps one of the biggest reasons we can still take the idea of socialist economic planning seriously today. Yet Cockshott has also made noise, though hardly uniquely among British communists, regarding issues of sexuality and gender with explicitly reactionary statements. So too does his outlining of cybernetic planning suffer from a key nationalistic defect resulting from its origins as a plan of reform for the communist bloc.
I hope briefly outline how these reactionary tendencies are the results of accidents of history, of the particular subjectivity of Professor Cockshott and his cohort, rather than the fundamental goals and methods of the science they have helped to produce, and in fact that the liberatory goals of socialist cybernetics are precisely at odds with these prejudices.
To get some cheap shots out of the way, Cockshott's class analysis of male homosexuals, painting them as an upper middle class interest group, is quite convenient considering what it leaves out, such as the extremely high rates of poverty among trans people, roughly double the poverty rates for the general population. Perhaps more importantly, however, is the arc of the article itself which acts as an indictment of gay men as economic-political actors on the one hand, and a dismissal of LGBT concerns on the other. It may be totally valid to say that much of LGBT political activism is consumed with upper class concerns, as is the case of most political activism to begin with. But rather than offering a larger emancipatory project which includes gay men, for example explaining how creating non-nuclear family models of reproductive labor can lead to less discrimination against gay men to begin with, he dismisses them and their interests in total.
It is notable however that this kind of analysis is missing when talking about trans people, given their high poverty rates and homelessness. Eliminating poverty and guaranteeing access to housing are key aspects to any socialist program, after all. When one is confronted LGBT activism focused on bourgeois concerns, these are precisely the facts that one should emphasize, and that only the worker's movement is the solution. Slipping into the role of a cultural warrior, such as in this 2019 blog, is not only counter productive but an actively reactionary position.
Cockshott would have us believe that his social reproduction analysis makes his point of view a foregone conclusion, however his point of view is premised on a total rejection of the concept of the subject in a way that makes his analysis of language lead to analytic and positivist errors.
Cockshott makes a specific distinction to the legal or larger structures which claim subjects, and human individuals themselves. Take the following example:
In rural Scotland local people will refer to 'The Estate' deciding to do this or that. A Dukedom is an estate and a subject of right, to which the current incumbent is just a placeholder. So yes the particular person who inherits the Dukedom, who might have been previously a person of little importance, several generations removed in the colonies becomes, on the death of the last Duke becomes the Duke. The Duke is indeed 'defined, and reproduced in accordance with the requirements of those structures. ', but as the title holder he is just a mask for the real subject : the estate.
There is something fundamental left out of this analysis. We acknowledge the person who inherits the Dukedom, and we acknowledge the Duke as a structural role, but what exactly is the relationship between the two? What is the Duke to the person who inherits the title? Here is the crucial role of interpellation – if the title-holder acknowledges themselves as the Duke, they themselves become the subject of this logic of the estate, they as an individual.
Gender operates in this way, in that we can speak of a larger structure as well as how individuals identify themselves as subjects situated within said larger structure. Interpellation is not a straightforward determined process, however, and while it is rarely done on a conscious level one cannot simply assume that, as in the classic example, someone will really turn when a policeman calls "Hey you!". All we can say is that, in the process of doing so one has become the subject – the you that the policeman speaks of.
Cockshott provides an alternative metaphor, however, that of passwords as social identifiers analogous to gender. If an identity thief steals your information, the fact that we should still reject him as the fake, Cockshott says, suggests that there is something immutable about the identification of the body. But this immutability of the individual person cannot be conflated with a larger category like gender or sex, what makes the personhood immutable is precisely the nominalism implied in identifying individuals. You can point and name a person, but to create a category you must name multiple things, in the case of abstract set theory and analytic categories this is not so much a problem, as you can define categories arbitrarily. Social categories, which have to be operationalized in various ways, have no such luxury.
Consider the following passage from his blog:
This has an obvious parallel to the objection by the feminist community to transsexual men declaring themselves as women. They adopt signs of identity in the form of dress, makeup and engage in explicit declaration just as the credit card fraudster adopts signs and makes declarations of a stolen identity. But all this is pretense in both cases, since true identity rests in bodily continuity.
Here there is a rather insidious mixing of metaphor. The fraudster in Cockshott's original logic is the individual which steals other people's pin numbers and credit cards, the pin numbers and credit card numbers are, as he quotes Butler "socially instituted and maintained norms of intelligibility" such as gender. If we consider the analogy between a password and gender, we should also consider that there must be social protocols for changing passwords and other such socially identifiable information. Cockshott is attempting to suggest that trans people are trying to conceal their bodily continuity, and yet the opposite is precisely the case. The individual remains the individual.
What does a great deal of work in this passage is "true identity", which seems to implies there are necessary and immutable categories associated with the body. Assuredly, one could create such categories with arbitrary criteria for the purpose of scientific study, but the social categories of male and female are both historically contingent and relate to individuals not through analytic sorting but through complex processes of interpellation.
If we are to return to the analysis of social reproduction theory, and the material basis of categories, one can perform the analysis on all levels of abstraction, including focusing on cis women, trans women, or women as a larger category encompassing both groups. When Cockshott notes that women and men have general differences in pay, roles in reproductive labor, and different medical pathologies, he fails to note that these differences between men and trans women can sometimes be equally if not more extreme. For example, trans women experience a pay gap of roughly 30% after transitioning, compared to about 13% for cis women. Transgender individuals also experience much higher rates of depression than the general population.
Cockshott's defense of "heteronormativity" on the grounds of social reproduction theory is especially dubious on a purely empirical ground in his assumption that existence birth rates among non-heterosexual individuals will remain the same. As materialists, we should know that the social relations, cultural norms and behavior like childrearing is greatly determined by the the sphere of production. This is clear in the logic of demographic transition, whereby birth rates decline as an economy industrializes, and in recent empirical work I've posted which shows that birth rates in developed countries are also somewhat determined by the length of the working day. In a non-heteronormative society, if we must imagine one for the sake of the debate Cockshott is engaging with Butler on, there would necessarily be a different mechanism, and set of mores, which drive social reproduction besides the nuclear family. As far as I'm aware, though I am hardly a deep reader of Butler, she doesn't outline what social institutions/mechanisms would accomplish this on the level of labor and reproducing society as a whole, however, Cockshott does.
In his book "Towards a New Socialism" he articulates the possibility of making the commune a serious locus of reproductive labor in society by integrating it into a larger economic planning system. In such a situation, where reproductive labor is coordinated communally we should not only believe that it is possible for a different set of cultural mores and role of sexuality in reproduction, we should expect it. A materialist conception of history entails that when we advocate for a new mode of production, a new set of relationships of production, we are also embracing new values and social conventions, whether we can really anticipate what those will be or not.
Cockshott would like to have his cake and eat it too, he wants his radical commitments to reorganize society through economic planning and new economic forms or organization, but he's unwilling to accept that this may produce results counter to his aesthetic preferences as a British baby boomer.
Moving from his poor treatment of transgender women and homosexual men in his online blog, there is a more central, though less explicitly reactionary problem to be found in his theoretical work of economic planning. This is the problem of methodological nationalism: the socialist commonwealth found in "Towards a New Socialism" was originally intended to directly correspond to the countries of the communist bloc, and the text was intended to be a method of reforming the inefficient and failing planning system of the 80s. Given this background, it is no wonder that Cockshott focuses on the one hand national economic systems and trade between states on the other.
The great virtue of the book was that it proposed a bold utopian vision at the precise moment when utopia was disappearing as an idea, that capitalist realism began to dominate and no one could imagine any alternative to our present capitalist system. But it's vice was contained precisely in this origin, in that the historical preconditions for its realization disappeared as soon as it was published. Attempting to apply the lessons of the book to political and economic struggle in capitalist countries seems to suggest that the application of socialist cybernetic planning would be in what to do after nationalizing industry after gaining control of the state.
One big problem with this is that it inherently undoes some of the historical progress of capitalism's socialization of production across the globe. Multinational production and global supply, while sometimes encouraging de-rationalization of production in developed countries as Cockshott points out, has also entailed the industrialization of East Asia, and the coordination of production across continents. If the multinational corporations were simply nationalized, such explicit state control will mean that the activities of these enterprises will no longer be treated as largely politically neutral by the countries they are operating in. Today, multinational corporations explicitly have a higher purpose than national interests, the interests of capital and their shareholders. If such enterprises were no longer an accomplished fact, but the subject of extensive negotiation between states, there would far less international coordination of production, and a far less connected working class.
Perhaps more importantly, waiting to apply socialist cybernetic planning until socialists take power is a grave mistake based on the simple fact that in order for the workers movement to succeed it must be powered by a political, ideological and economic revolution which are concurrent.
It was once believed by socialists that the socialization or production would eventually lead to monopolies that were fetters on said production, and this incongruity between the socialization of production and the private ownership would explode with social discontent and working class power. However, the political economy of neoliberalism has enforced the atomization or production along with state-enforced monopolies of large rent seeking sectors in software and technology more generally. In such a situation where the state enforced dichotomy of antitrust and patent-monopolies prevents the socialization of production, socialists must take direct action.
We can and must employ the principles of cybernetic planning in really existing enterprises today with some form of socialized property in order to break the rent seeking capitalist giants. The Telekommunist Manifesto provides interesting proposals along these lines, including the creation of software licenses which can only be used by socialist enterprises. If such enterprises could be created, as they expand into production they will necessarily have to apply the principles of cybernetic planning in supply chains and could do so in even more advanced forms that the most advanced capitalist firms such as Walmart and Amazon, as unlike such firms the cybernetic principles would not be applied to control the worker as an instrument of production, but to incorporate the worker as an agent in the feedback loops of production, allowing them more control over their own workplace and production process.
Cockshott emphasizes the democratic potential of cybernetic planning by pointing to the Athenian model of democracy by sortition, making randomly chosen workers the ultimate decision makers in enterprises, something which is only possible by the methods of cybernetic planning making information coming from the enterprise intelligible to any ordinary worker.
I believe that this democratic spirit is undermined by the methodological nationalism of Cockshott's proposal, which restricts such democratic activity to the state polity. In the internet age, we have already become connected, though often in alienated ways, with people all over the world, and these connections through cyberspace are facilitated by various different firms that are internet service providers in many different countries. What allows us to communicate with people in Japan, Nigeria, or Brazil so seamlessly is not an explicit shared political connection between our nations, but two things: the shared international market, and the shared electronic protocols for propagating information on the world wide web. This is also true of specific websites and services that are facilitated by the internet, and which are also not subject to the natural geographic monopoly of internet service providers, such as Facebook, Twitter, Google ect.
In Cockshott's proposal, the rules of the cybernetic planning system are determined centrally by the state through a directly democratic process. This is a necessity imposed by the abolition of money and its replacement by labor vouchers. However, we should imagine the possibility of socialist cybernetic coordination even within the capitalist world system, the possibility of a growing parallel socialist cyber infrastructure where perhaps even large international socialist enterprises can emerge which allows its suppliers to engage in in-kind coordination via input-output tables like Cockshott suggests.
Such socialist enterprises and infrastructure integrated into the global markets, if exempted from a socialist commonwealth's direct nationalization, would not only allow for the global socialization of production to persist to develop, but would also allow the participating individuals into an international democratic sphere. Such enterprises, if integrated into a socialist commonwealth, could integrate the workers within the commonwealth into the in-kind network, pay them via labor tokens as per the law, with a certain amount of their produce sent abroad for sale perhaps subject to "capital" control regulations of the commonwealth. These workers would benefit from access to foreign goods and connections to workers abroad, the enterprise would have end goods to sell on the international markets, and the government through taxing these in kind transactions would be able to provide foreign goods to the public at large.
The theory of the capitalist mode of production by Marx, and it's overturning, was methodologically global, and we should keep this in mind when checking our theories and proposals for reactionary tendencies. While not as immediately abrasive as the attacks on trans women and gay men, methodological nationalism can lead to endorsement of very dark reactionary tendencies should socialists ever take power somewhere in the world, including the rejection of internationalism itself as was the case in many shameful points in the history of the communist bloc.
In both cases, though, we may surely find that these errors are the result of pure sentimentality grounded in the subjectivity of one Paul Cockshott, who cannot go beyond his generational distaste for queer people, or the now long dead soviet union which dominated the questions of socialist politics for the first half of his life.